Zum Eintrag Geologix Explorations:
Tepal Drilling Extends Tizate Zone at Depth and Encounters Multiple Higher Grade Gold Intervals Including 0.32 g/t Gold Over 232 Metres sind folgende weitere Informationen vorhanden.

+++ NEWS vom 05.12.2011 +++
Tepal Drilling Extends Tizate Zone at Depth and Encounters Multiple Higher Grade Gold Intervals Including 0.32 g/t Gold Over 232 Metres

Geologix Explorations Inc. (TSX: GIX / WKN: A0CAFW) is pleased to announce additional assay results from the Company`s resource expansion and infill drilling program completed at its 100% owned Tepal gold-copper project in the state of Michoacán, Mexico.


Initial assay results from the project`s Tizate Zone have achieved the program`s three main objectives:

1. Several holes have identified substantial intervals of gold and copper mineralization at depth extensions beyond the previous resource outline (see news release dated April 11, 2011);
2. Multiple intersections of gold and copper grades above the Tizate Zone`s resource average; and
3. Infill drill holes encountering grades and width expected to upgrade a proposed new resource to a higher mineral category as part of a subsequent pre-feasibility study.


Initial results from the first 29 holes, totaling 6,514 metres (m) from the Tizate Zone are highlighted by intersections including hole TIZ-11-065 which encountered 232.85 m grading 0.32 grams per tonne (g/t) gold and 0.14 percent (%) copper extending the depth of mineralization 125 m deeper than the previous resource outline and remains open at depth, and TIZ-11-062 which encountered 226.05 m grading 0.32 g/t gold and 0.15% copper extending the depth of mineralization 75 m deeper than the previous resource outline, and ending in mineralization (to view the 2011 Tizate Section 2116575N and 2011 Tizate Zone Drilling maps, please click here.

Results from these, and other depth extension holes, not only extend the depth of mineralization well beyond the previous resource outline, but also represent gold grades above the Tizate Zone resource average of 0.21 g/t gold (and 0.18% copper) used in the April 2011 PEA mine plan. Highlight results from the first Tizate Zone drilling include: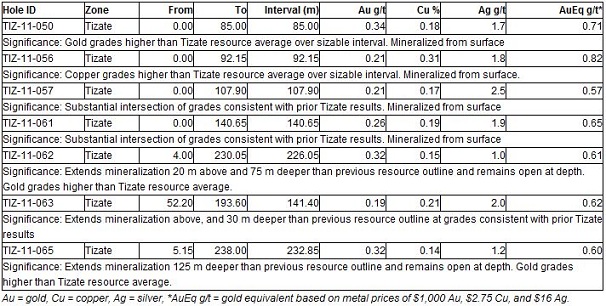 A complete table of assay results received to date from the 29 holes drilled at Tizate in this program, as well as a plan map and drill section, can be found on the Tepal Project page of the Company`s website www.geologix.ca. Remaining assay results from the balance of the Tepal drilling will be reported as they become available.


Dunham Craig, President & CEO, stated, "We are pleased with the first results from the Tizate Zone drilling as once again drill results from this important program are meeting our main objective to achieve the necessary drill density to upgrade the resource category in an updated resource estimation for a pre-feasibility study. We are equally pleased to see several intersections of elevated gold grades within the central portion of Tizate. We`re also encouraged by depth extension results from holes TIZ-11-062, TIZ-11-063, TIZ-11-065, that appear to be expanding the mineralization at depth with higher than average grades. These latest results combined with the 37 resource expansion holes drilled at Tizate earlier in the year (subsequent to the April 2011 PEA and reported in news release dated July 20, 2011) give us encouragement for the potential to expand Tizate."


Geologix`s Resource Geologist, Andrew Hamilton, B.Sc., P. Geo., a `qualified person` for the purposes of National Instrument 43-101 Standards of Disclosure for Mineral Properties of the Canadian Securities Administrators, has verified the data (including sampling and analytical data) and prepared the information contained in this news release. All samples were collected from the project by ALS-Chemex, and taken to their sample preparation facility in Guadalajara, Jalisco State, Mexico, with the analytical work being completed at their North Vancouver, B.C. laboratory. A QA/QC program has been implemented to ensure all core and sample handling procedures are in accordance with the best possible practices. The assay protocol includes the insertion of standards, blanks and duplicates into the sample stream.

Geologix Explorations Inc. is a mineral exploration company focused on acquiring, exploring and developing mineral resource opportunities with the potential to host world class mineral deposits. The Company`s primary focus is the Tepal Gold-Copper Porphyry Project in Michoacán State, Mexico, where the Company has completed a Preliminary Economic Assessment study ("PEA") of the existing resource and is continuing to aggressively explore for additional gold and copper mineralization in an effort to expand the size of the resource and scale of the possible future mining operation.

The Toronto Stock Exchange has not reviewed and does not accept responsibility for the adequacy or accuracy of this release.

Börsen-News kostenlos per E-Mail!
Hier finden Sie ein Video zum Marion South Contact Property von Fairmont Resources sowie die angrenzende Liegenschaft von Osisko (10,5 Millionen Unzen NI 43-101-konforme Goldressourcen in der Inferred Kategorie)!

... auf Deutsch!
Bob Moriarty - 321gold.com
Kurze Zusammenfassung von der Besichtigung des Projektes von Mexigold.

Zum Bericht geht`s hier!