Zum Eintrag SILVERMEX RESOURCES:
Silvermex Intersects High Grade Gold at La Guitarra-306.99 g/t Au and 1,033.60 g/t Ag or 18,225 g/t Silver Equivalent Over 1.45 Meters sind folgende weitere Informationen vorhanden.

+++ NEWS vom 27.03.2012 +++
Silvermex Intersects High Grade Gold at La Guitarra-306.99 g/t Au and 1,033.60 g/t Ag or 18,225 g/t Silver Equivalent Over 1.45 Meters

Silvermex Resources Inc. (WKN: A1C8MQ / TSX:SLX) announces further underground drill results from five drill holes at its producing La Guitarra property, located in the Temascaltepec Mining District, in the State of Mexico.

These latest drill results demonstrate the presence of a significant new ore extension on the main La Guitarra Vein and have returned assays with bonanza grades of gold and silver while the Doncellas Vein in the hanging wall of the La Guitarra vein continues to return significant mineralization. Drilling has demonstrated the potential extension of the ore shoot 150 meters in depth and 100 meters in strike with the ore shoot still open to the NW and at depth.

The diamond drill holes all intersected high grade gold and silver with the most prominent being drill hole LGS-57, where it intersected 147.473 g/t Au and 607.703 g/t Ag over 3.2 m. This includes a 1.45 m interval of 306.99 g/t Au and 1,033.60 g/t Ag. This translates to a silver equivalent grade of 18,225.040 g/t.

Other notable intersections include drill hole LGS-56, where it intersected 5.35 m of 18.059 g/t Au and 67.694 g/t Ag. This includes a 1.25 m interval of 55.422 g/t Au and 158.036 g/t Ag. This translates to a silver equivalent grade of 3,261.683 g/t.


Table 1. Underground Drill Results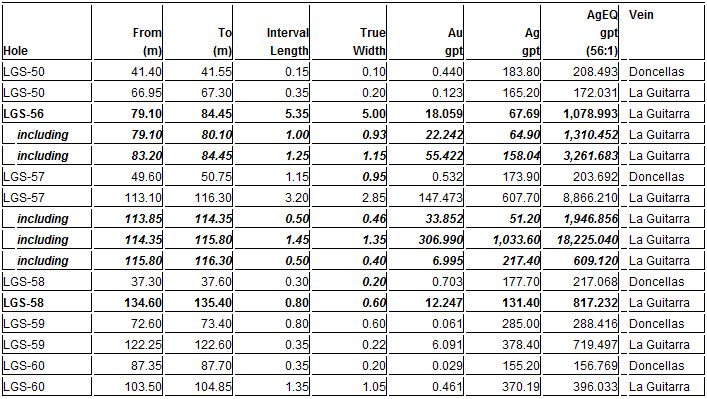 * AgEQ - silver equivalents based on $1,456 gold and $26 silver (56:1 ratio). Recoveries have not been considered.


These intercepts are located between elevations of 1,700 m and 1,600 m. This drilling has demonstrated the potential extension of the ore shoot 150 m in depth and 100 m in strike with the ore shoot still open to the NW and at depth. This indicates that significant mineralization extends below the deepest recorded mining on the La Guitarra Vein.


Duane Nelson, CEO of Silvermex, reports: "We are very pleased with the bonanza type intercepts we are seeing in this new section of the mine. Never before have we seen gold grades over 300 g/t over such wide strike lengths and depths like this. We have already started to modify our mine plan to focus on developing this area. We are confident we can access the upper portion of the high grade ore body by the third quarter of this year."


Sampling of the drill core was overseen by one of the La Guitarra geologists who marked off the drill core at appropriate intervals based upon the geology and mineralization present. Sample intervals normally vary from 0.2 -- 1.0 m in length. No sample exceeded 1.5 m in overall length. All core samples were sent to Inspectorate Labs sample preparation in Durango, Durango, Mexico. Assays for gold were done by 1 Assay Tonne Fire Assay AA Finish and 4 Acid ICP-AES for silver and other elements. Gold assays that exceed 5 g/t by AA are redone using a gravimetric finish. Silver assays in excess of 100 g/t are redone using Fire Assay Gravimetric. Four acid ICP analyses were conducted at the main laboratory of Inspectorate in Reno, Nevada, USA. Certified standards, blanks, and duplicate samples were inserted in every batch of 20 samples sent to the laboratory.


Pursuant to National Instrument 43-101, Douglas Blanchflower, P. Geo., Geological Consultant to Silvermex, is the Qualified Person (´QP´) responsible for the disclosure in this news release.


Company Profile

Silvermex Resources Inc. is a publicly traded mining company focused in Mexico and led by a highly qualified team of professionals from some of the most notable companies in the silver mining sector. The Company´s portfolio of projects ranges from early stage exploration to production. Its core asset is the producing La Guitarra silver-gold mine located in the Temascaltepec Mining District of Mexico. Silvermex is currently working to identify future production centers through extensive exploration programs to further develop the district. Silvermex is well financed to further develop resources organically from its multiple projects as well as from the acquisition of additional assets that will drive production growth.


ON BEHALF OF THE BOARD

Duane Nelson, CEO & Director


This News Release contains forward-looking statements. Forward looking statements are statements which relate to future events. In some cases, you can identify forward-looking statements by terminology such as "may", "should", "expects", "plans", "anticipates", believes", "estimates", "predicts", "potential", or "continue" or the negative of these terms or other comparable terminology. These statements are only predictions and involve known and unknown risks, uncertainties and other factors that may cause our actual results, level of activity, performance or achievements to be materially different from any future results, levels of activity, performance, or achievements expressed or implied by these forward-looking-statements. Management has assumed that these will be our major projects going forward. Risks include that we are unable to satisfy environmental or other regulators, that we determine that our resources are not commercially viable, or that we have difficulties due to unavailability of labour or equipment.

While these forward-looking statements, and any assumptions upon which they are based, are made in good faith and reflect our current judgment regarding the direction of our business, actual results will almost always vary, sometimes materially, from any estimates, predictions, projections, assumptions or other future performance suggests herein. Except as required by applicable law the Company does not intend to update any forward-looking statements to conform these statements to actual results.

Neither the Toronto Stock Exchange nor its Regulation Services Provider (as that term is defined in the policies of the TSX Exchange) accepts responsibility for the adequacy or accuracy of this release.
Börsen-News kostenlos per E-Mail!
Hier finden Sie ein Video zum Marion South Contact Property von Fairmont Resources sowie die angrenzende Liegenschaft von Osisko (10,5 Millionen Unzen NI 43-101-konforme Goldressourcen in der Inferred Kategorie)!

... auf Deutsch!
Bob Moriarty - 321gold.com
Kurze Zusammenfassung von der Besichtigung des Projektes von Mexigold.

Zum Bericht geht`s hier!