Zum Eintrag FAIRMONT RESOURCES:
Fairmont Intersects 2.00 g/t over 8.00 Meters at Marmion South Property sind folgende weitere Informationen vorhanden.

+++ NEWS vom 04.06.2012 +++
Fairmont Intersects 2.00 g/t Over 8.00 Meters at Marmion South Property

Fairmont Resources Inc. (TSX-V: FMR / WKN: A1H5YV) is pleased to announce results from its spring 2012 drill program on the Marmion South property, located east of Atikokan, Ontario, and contiguous with Osisko Mining Corp.´s Hammond Reef property. Fairmont drilled a total of 1,400m in 10 holes, results of which are tabulated in Table 1 below.


Highlights Include:
2.00 g/t over 8.00 meters, from 76.00 to 84.00 meters, including 3.27 g/t over 3.00 metres in hole FA-MAR-12-004
1.37 g/t over 10.80 meters from 81.80 meters to 92.60 meters, including 3.10g/t over 1.90 meters in hole FA-MAR-12-002
3.02 g/t over 2.00 meters from 105.00-106.00 meters in hole FA-MAR-12-006


The program focused on the historic Olcott gold occurrence, located in the southern portion of the property, which has returned up to 5.41 g/t gold over 6.16 metres and 1.85 g/t over gold 19.20 metres in historic drilling during the 1980s and 1990s. The greenstone-hosted Olcott occurrence is located at the intersection of an east-west-trending structure parallel to the regional Quetico fault and a northeast-trending structure similar to the one that hosts the Hammond Reef deposit. This occurrence has been the focus of historical trenching and limited drill programs in the 1980s and 1990s and is a classic quartz vein/shear-hosted gold system.

The Olcott occurrence is just one of several gold occurrences hosted within the Sapawe Lake greenstone belt, the most notable of which is the former Sapawe-Atiko mine. The Sapawe-Atiko mine, located less than 300m from the eastern boundary of the Marmion South property, produced 4,900 oz ounces of gold at a grade of 4.56 g/t from 1963 to 1966. These gold occurrences are hosted within an east-west corridor; sub parallel to the Quetico fault, the Marmion South Property covers over 8 km of this highly prospective corridor.

Planning is also underway for an extensive summer prospecting, mapping and soil sampling program to ground truth several key northeast trends and anomalies within the Marmion batholith in the central and northern part of the property identified by the 2011 airborne geophysical survey (see press release March 6th 2012). Osisko´s Hammond Reef deposit is controlled by the northeast-trending Marmion shear; numerous historic gold occurrences in the Marmion batholith are associated with similar northeast structures.


Table 1: Drilling Results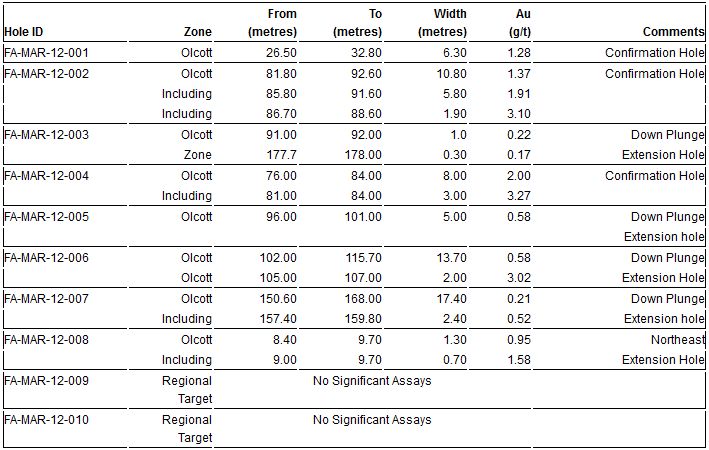 Note: Reported widths are drilled core lengths; true widths are unknown at this time. All assays are performed by Accurassay Laboratories of Thunder Bay, Ontario. All assays reported are uncut.


QA/QC Procedures
Fairmont has implemented a rigorous quality assurance / quality control (QA/QC) program to ensure best practices in sampling and analysis of the drill core. Blanks, standards (one high-grade, one mid-grade, and one low-grade), field duplicates (1/4 split cores), and crush duplicates are inserted sequentially at least every 20th sample into the drill core samples before shipment. Standards are from Geostats Pty. Ltd. of Fremantle, Western Australia and blanks from Nelson Granite of Kenora, Ontario.


About Marmion South Property
Fairmont has an option to acquire a 100% interest in the Marmion South Property, which consists of 8,208 hectares and is located in the prolific Marmion Batholith gold district near Atikokan, Ontario. The Marmion South Property is also located south of and is contiguous with Osisko Mining Corporation´s (TSX VENTURE:OSK) Hammond Reef Property which contains a National Instrument 43-101-compliant global inferred resource of 530.6M tons at an average grade of 0.62 g/t gold for 10.5 million ounces and based on a cut off of 0.30 g/t gold. Osisko´s technical report on this resource can be viewed on SEDAR.
Neil Pettigrew, M.Sc., P.Geo., President, CEO & Director of Fairmont Resources Inc. and the Company´s Qualified Person as defined by NI 43-101, has reviewed and approved the technical information in this press release.


On behalf of the Board of Directors of Fairmont
Neil Pettigrew, M.Sc., P.Geo.
President and CEO, Fairmont Resources Corporation


Forward-Looking Statements
Information set forth in this news release contains forward-looking statements that are based on assumptions as of the date of this news release. These statements reflect management´s current estimates, beliefs, intentions and expectations. They are not guarantees of future performance. Fairmont cautions that all forward looking statements are inherently uncertain and that actual performance may be affected by a number of material factors, many of which are beyond Fairmont´s control. Such factors include, among other things: risks and uncertainties relating to Fairmont´s exploration program of its mineral properties and Fairmont´s limited operating history. Accordingly, actual and future events, conditions and results may differ materially from the estimates, beliefs, intentions and expectations expressed or implied in the forward looking information. Except as required under applicable securities legislation, Fairmont undertakes no obligation to publicly update or revise forward-looking information.

NEITHER TSX VENTURE EXCHANGE NOR ITS REGULATION SERVICES PROVIDER (AS THAT TERM IS DEFINED IN THE POLICIES OF THE TSX VENTURE EXCHANGE) ACCEPTS RESPONSIBILITY FOR THE ADEQUACY OR ACCURACY OF THIS RELEASE.
Börsen-News kostenlos per E-Mail!
Hier finden Sie ein Video zum Marion South Contact Property von Fairmont Resources sowie die angrenzende Liegenschaft von Osisko (10,5 Millionen Unzen NI 43-101-konforme Goldressourcen in der Inferred Kategorie)!

... auf Deutsch!
Bob Moriarty - 321gold.com
Kurze Zusammenfassung von der Besichtigung des Projektes von Mexigold.

Zum Bericht geht`s hier!